Meet our employees
Meet our employees
Our employees are an important part as we give our students valuable knowledge and an exciting study period and as we as a higher education institution need to contribute to solutions to the challenges in society.
BTH's employees are coming from all over the world and are sharing their stories here with you.
We would like to give you insights on how our employees find their way to BTH, about their career journey and expieriences about living in Karlskrona, career development and relocation. Within the next weeks we will update this page with more interviews and stories from our staff.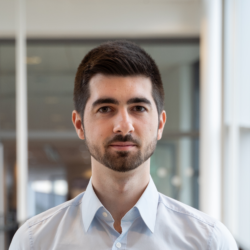 "I can strongly advise engaging with BTH and exploring the possibilities offered in academia. A broad portfolio of completed, ongoing, and coming projects can be browsed to catch a glimpse of the various departments' cutting-edge research. I am grateful for being a part of BTH and warmly recommend considering opportunities it offers." 
Julian Frattini, employed Ph.D. student at the department for software engineering
My name is Julian Frattini, Ph.D. student at the department for software engineering under Daniel Mendez's supervision.
Bidding farewell to the vivid, sprawling city of Munich, where I had completed my Master of Informatics, was daunting at first. But even though Karlskrona might lack in public appeal, both the city and the university rewarded my transition with a new home I grew fond of quickly.
This became especially apparent in the troublesome times of the pandemic, which unfortunately coincided with the start of my Ph.D. program. Thanks to an exceptional, familial culture, I never felt alone despite considerate self-isolation.
The work environment of BTH has ever since motivated me to exceed my own goals: an ambitious but caring community has welcomed me from the start and invited me to contribute and excel. With great confidence, I can claim to have significantly grown both as a researcher and a person thanks to the inspiring collaboration with my department.
Apart from work, Karlskrona charmingly stood its ground against the vibrant Munich. It did not take long to appreciate the sea and nature's closeness, which invites to be explored after work. An enchanting winter was the literal icing on the cake in my first year.
Video interviews with employees
You will find soon digital interviews with some of our employees – stay tuned!