BTH launches its largest research project ever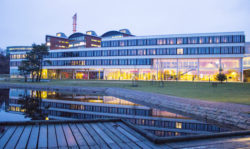 Now one of the largest research projects ever starts at Blekinge Institute of Tehcnology, BTH. Researchers at Software Engineering Research and Education Lab will, during eight years, collaborate with eleven software companies to make them more competitive. On October 1st, a kick-off is held at Telia Company's head quarters in Stockholm.
The aim of the SERT project (Software Engineering ReThought) is to develop new working methods in order to support Swedish software industry to become more competitive when it comes to develop software intensive product and services.
BTH, the Knowledge Foundation and the eleven companies together contribute with 107 million SEK, which makes SERT one of the largest research projects ever at BTH.
– We see that Swedish companies have major challenges with the rapid development. We will therefore build a research environment together with our partners to solve real issues identified by us together with the companies, says professor Tony Gorschek, in charge of the new project.
One of the overall aims of BTH is to contribute in solving societal challenges in collaboration with business and industry and society.
On October 1st, all eleven companies will meet at a kick-off in Stockholm. The kick-off will be held at Telia Company's headquarters. The event will gather about 90 people and will include seminars and discussions to initiate the work. The seminars will be broadcasted live here: https://www.bth.se/events/kick-off-sert/
The companies taking part in SERT are: Ericsson, Sony, Telia Company, Handelsbanken, CGI, MaxKompetens, Time People Group, Tolpagorni Product Management och QTEMA.
Further reading is available here: https://rethought.se/
Hashtag: #SERT2018