Master's in Industrial Economics and Management at BTH
Master's Programme in Industrial Economics and Management (MIEM)
Boost your technical career prospects. Upgrade your skills, develop your competences in market analysis, innovation management, and business development to drive success.
Why Industrial Economics and Management?
The business environment is changing faster in today's world and it requires skillsets and deepened knowledge to navigate. This Master's programme will guide you through learning about current topics and problems in globalisation, digitalisation, innovation, entrepreneurship, while equipping you with advanced knowledge in market and investment analysis, management strategies, econometrics, project management, and research method and design.
Upon graduation, you will be fully ready to tackle real-world challenges, whether it be managing projects at tech unicorns, leading financial analysis at large complex organisations, or even realising your ideas to build a new start-up of your own. The opportunities are endless.
Who is this programme designed for?
The new Master's Programme in Industrial and Management (MIEM) is specially designed for you who have background in technical science education but not familiar with industrial economics and management. Specifically, you have obtained a Bachelor of Science (BSc) degree in Engineering. You also have completed at least 20 credits of Mathematics, Applied Mathematics, or Mathematical Statistics.
Programme content
This programme is organised as a two-year study on campus, equivalent to 120 ECTS credits. The two-year study is divided into four semesters, in which the first year comprises of two semesters with eight mandatory courses. The third semester during the second year, you may choose among two specialised tracks or go on an exchange study in one of our partner universities around the world. Your final semester will be dedicated to conducting academic research, based on your interest, that will result in a final Master's thesis.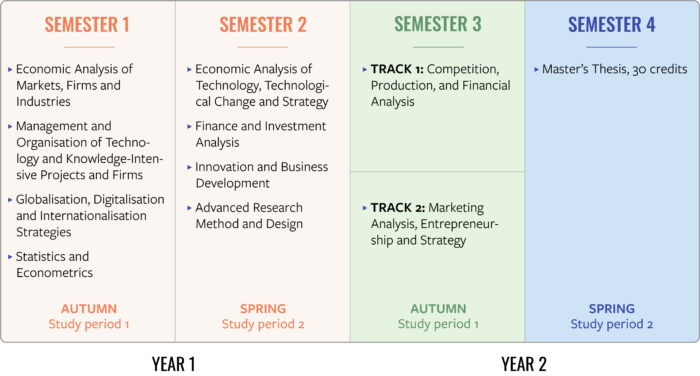 You can read the brief descriptions of all the courses on this web page.
Specialised tracks
During the third semester, you can choose among two specialised tracks.
Track 1: Competition, production, and financial analysis is suitable for you who want to develop your skills in quantitative analysis and optimisation in connection to production, financing and investment issues.
In this track, you will study the following courses:
Applied Competition and Market Analysis
Applied Production Economics
Investments, Risk and Uncertainty
Applied Investment Analysis
Track 2: Marketing analysis, entrepreneurship and strategy is a perfect fit for you who want to develop your knowledge and skills in strategy and business development.
In this track, you will study the following courses:
Applied Competition and Market Analysis
Entrepreneurship and Strategy
Commercialisation of Products, Services and Innovations
Strategy for Software Developing Firms
Instead of the two tracks, you may opt to study abroad as an exchange student at one of our partner universities around the world.
Delivery
The Master's Programme in Industrial Economics and Management is run full time and each course runs at half pace, which means you will take two courses in parallel during each study period. One academic semester consists of two study periods, that means a total of four courses per semester. This is equivalent to 40 hours of study time per week. The programme comprises of four consecutive semesters during two academic years, starting in Autumn. There are two study periods in a semester, i.e. Autumn 1 & 2 and Spring 1 & 2. In each study period, you will study two courses. The final Spring semester in Year 2 is entirely dedicated to the Master's thesis.
The courses are organised by professors or senior lecturers and teaching assistants, all of whom have background in either industrial economics, business, or management. You can see the faculty members and their research focus on this page. Because each course has different requirements and outcomes, there is no single format. Each course is designed by its dedicated teaching team and the learning activities can range from lectures, individual and/or group assignments, student presentations, exercise sessions, seminars and workshops, and so on.
Quality assurance
We strive to provide a high-quality education in all of our courses throughout the programme. Among the measures, we listen to your valuable feedbacks via an evaluation survey in each course in order to improve constantly. Students also evaluate the overall programme twice a year.
At the university level, an independent academic committee reviews our programme contents, study conduct, and students' performance twice a year. The Higher Education Council of Sweden evaluates our programme every five years concerning the quality of teaching staffs, pedagogical methods, and learning outcomes.
The programme manager ensures that BTH delivers quality education through rigorous planning and development of all the courses and maintaining a close collaboration with the students.
What our students say
You can watch the interviews with some of our current students here.
Mohsen, Iran
Lara Wirges, Germany
Kakwano Rodney, Uganda
Frequently Asked Questions
Is this similar to an MBA programme?
No. Our programme differs from a typical MBA programme. In contrast to a one-year full-time equivalent MBA programme, our programme runs for two years at half pace. Moreover, the MBA programme is targeted at professionally active engineers with working experience. Our programme content focuses on applied knowledge, such as investment analysis, statistics, production economics, that builds upon your previous technical education, so you can use them to solve complex problems in business. Moreover, our MIEM programme offers flexibility, so you can either choose between the two specialised tracks during the second year, or go on an exchange at our partner universities abroad.
At BTH, we also offer an online MBA programme, please refer to this website for information.
What is the study pace?
The programme is a full time study and each course runs at half pace. This is equivalent to a normal 40 hours of study per week. We do not offer a change of study pace to full pace.
What is the educational degree for this programme?
Upon graduation, you as a student will be awarded Master of Science (MSc), 120 credits, in Industrial Economics and Management (in Swedish, Teknologie Masterexamen i Industriell ekonomi och management).
Do you require my physical presence in the programme?
Yes. All courses offered by BTH in this programme are conducted on campus. The exception is the third semester abroad, where you exchange your study at our partner university. (Read study situation during Covid-19 below)
What documents do you need for the application? Do I have to send certificates of English proficiency if my native language is English?
All applications have to be processed through the central system at University Admissions website. You can read about the required documents and English language requirements on these links.
Can I apply for this programme if I have studied Industrial Economics during my Bachelor?
No. This programme is designed for students who have a Bachelor's degree in Engineering but not Industrial Economics. For example, if you have graduated from the Civilingenjör i Industriell ekonomi programme, your application will not be considered for admission. Furthermore, during your previous study, you must be able to show that you completed at minimum 30 credits of Mathematics, Applied Mathematics, or Mathematical Statistics.
When is the deadline for the application?
All important deadlines are listed on this page.
Is the programme tuition free?
Yes and no. For Swedish and EU/EEA (including Switzerland) students, you do not have to pay application nor tuition fees to study our programme. For students outside EU, you generally have to pay both application and tuition fees, except in certain cases. Read the eligibility for tuition exemptions from this link.
How much is the application fee?
If you are required to pay for the application, the total fee is 900 SEK. The University Admissions have to receive the fee by the deadline for the application to be processed. Read about the process on this page.
How much is the tuition fee?
If you are required to pay for tuition, the total fee is 240,000 SEK. The first instalment is 60,000 SEK, once you have accepted the offer to join the programme. Please check key dates for the application stages on this page.
Does BTH offer any scholarships?
Yes. BTH offers several scholarships that you can apply for. Check this page for more information. There are also scholarships from the Swedish Institute and many others.
Do you accept late applications?
This depends on whether there are available places after the application round. Read this page for information about late applications.
Where is the campus for the study?
BTH has two campuses, and all courses in our programme are located at Campus Karlskrona, southern Sweden. See map.
When should I apply for visa once I accept the offer?
As soon as you accept the offer for your place in the programme, prepare your documents and apply for visa at the closest embassy. During summer, the staff capacity at the Immigration Office is normally reduced, so it may take longer time to approve the visa. BTH does not offer assistance with your visa application.
When do I have to arrive in BTH?
We have orientation activities one week before the first academic year starts in Autumn. We advise you to arrive around mid-August. Check the important dates from this page.
Does BTH arrange a student accommodation for me? How do I find accommodation in Karlskrona?
No. BTH does not have a student accommodation on offer and cannot make reservations for admitted students. You can read this page for information on how to find accommodation. You may also find this page useful once you are admitted to BTH.
Does BTH offer support for students with disabilities?
Absolutely. BTH believes in equal opportunity and aims to be an openly accessible university for all. We offer various supports for our students with disabilities. You may read more in details on this page.
Other questions?
You can contact our admissions office via admissions@bth.se. Telephone number: Telephone: 0046 455 38 55 00 and telephone hours: Monday, Tuesday 13.00 – 14.00, Wednesday – Friday 10.00 – 11.00 (Swedish time).