Master's Programme in Software Engineering
120 CREDITS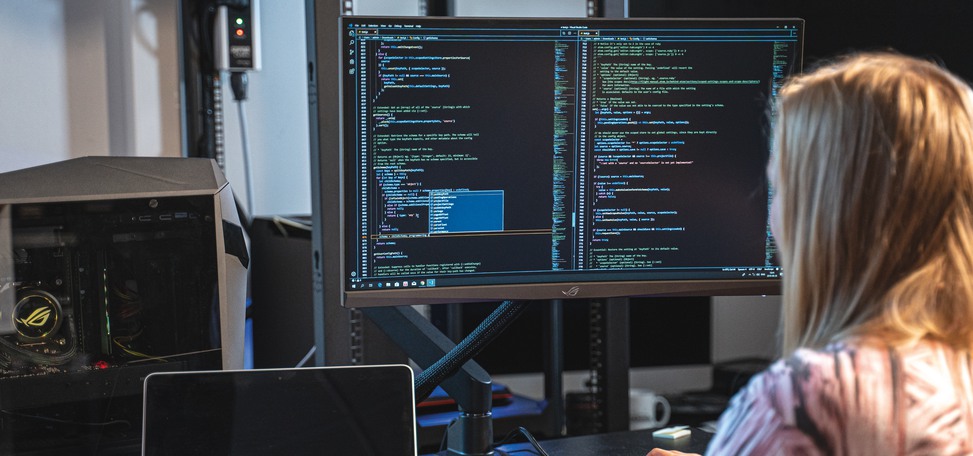 Master's Programme in Software Engineering
Analyze, adapt and apply. Meet future needs with a wide capacity to understand software engineering – from start to finish, and every step in between.
Create software to meet future challenges
The Master's programme in Software Engineering meets the complex challenges facing the software developers of the future. You acquire a wide understanding and base of knowledge through education and training in advanced concepts within software engineering, covering the entire development process. You learn how to construct and test software products to meet the challenges of tomorrow, with high demands on efficiency and quality. You also learn how to reflect upon and improve modern development processes.
From start to finish – each process, step and action
The education provides you with the skills and knowledge required to engineer software systems from the initial planning and scoping of projects, to the process of development, testing and delivery of the software system itself. The courses cover both engineering and working methodologies and you will study subjects such as project planning, software quality, and research methodology.
As a student within the programme, you will get access to Ericsson Space Lab (2:26, English text)
Courses and content
[chart width="400px" height="400px"  test="test" type="doughnut" legend="true"] [data label="Technology" value="45″ color="#9F44BE" highlight="#C58FD8″][data label="Thesis" value="30″ color="#00817A" highlight="#66B3AF"][data label="Process and Process Improvement" value="22.5″ color="#7CC04B" highlight="#B0D993″][data label="Research Preparation" value="15″ color="#0C50A0″ highlight="#6D96C6″][data label="Software Quality" value="7.5″ color="#F38130″ highlight="#F7A76E"][/chart]