BTH and Stanford students in joint project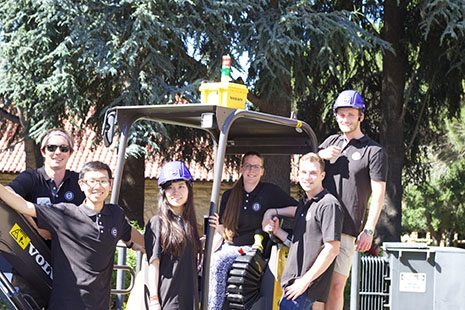 The Master of science programme in sustainable product-service innovation (MSPI) at BTH is a two-year long programme which include a three-quarter global design course at Stanford University.
The course features ten corporate-sponsored projects that all have global partner universities from around the world. For the last four years, mechanical engineering at BTH has been the only Swedish participant. Sponsors include major global brands, such as Volvo Construction Equipment, the Volkswagen Group, Renault, and SAP to name a few.
This year's project has now been completed. Students from MSPI and mechanical engineering at BTH together with mechanical engineering counterparts at Stanford have presented their results for how autonomous machines should collaborate and build trust with their human collaborators at future construction sites.
–You learn a lot when you´re working with people from different parts of the world, says Hillevi Hallberg, one of the students.
The result is a concept to support autonomous construction vehicles operating alongside human workers on major construction sites. As a leader in the construction industry, Volvo Construction Equipment (Volvo CE) are exploring concepts for running fully autonomous construction machines in aiming to increase productivity and to enhance safety for people in the sites. Even in this scenario there will be people on the site, maintaining machines and leading the operations. Therefore, the aim of the project is to create a system that will enable efficient communication between human workers and automated machines and thus such a system will increase safety and foster trust between the human workers and machines.
Jenny Elfsberg, Director Emerging Technologies, and Martin Frank, Specialist Intelligent Machines, are the liaisons from Volvo Construction Equipment, responsible for the project and the challenge the students begin with.
–We want to explore how we can build trust between semi and fully automated machines and humans. The best way is to use fresh, unspoiled engineering students to go crazy with prototypes, says Martin Frank, who has been the coach from Volvo CE throughout the year.
–We started with a very open prompt with the design challenge, then they went out on needfinding, interviewing, observing – watching and listening to understand what solution is needed, Martin continues.
Christian Johansson has been the faculty responsible for the project at BTH:
–It's been a really interesting project this year and a very good outcome. From a process perspective they have been doing a good job and my job has been mainly to allow the students to trust the process and let them work things out, basically mainly being supportive in their decisions. Some push here and there may be needed, but this year it's been less of that, basically just ensuring that things are going smoothly and that the corporate partner is aligned with where we're going, he concludes.
–The best part of the project is meeting all this new people. I have met some friends that I´m gonna stay in contact with for the rest of my life, says Hillevi Hallberg.
Please see the films with the BTH students Hillevi Hallberg and David Winqvist.