BTH team awarded prize at International Port Technology Hackathon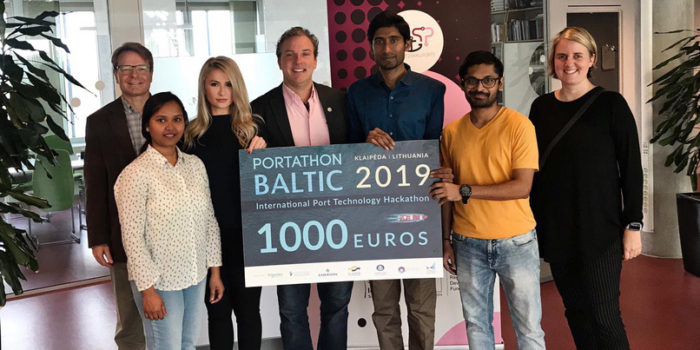 Last weekend, Portathon Baltic, International Port Technology Hackathon, took place in Klaipeda, Lithuania. One of the teams that received first prize for their solution was from BTH. 
On 20-22 September, the seaport of Klaipeda became a platform to develop advanced solutions for the modern ports of today and the future. The competition brought together teams from Lithuania, the Netherlands, Sweden and Germany. Both business organizations, universities, innovation developers and start-ups were represented.
During the 48-hour-event the teams had to work on their ideas and finally present them. 80 people divided into 18 teams participated and the aim of the weekend was to gather specialists from different areas, and with the help of experienced mentors generate ideas to make the ports of the future more efficient. The team from BTH was awarded €1000 prize money for their innovative solution, which was based on Artificial Intelligence using Blockchains. The suggested solution is to streamline the stacking and distribution of containers in large ports.
Thanks to the following financiers for the research: Connect2Smallports, the EU and Karlshamn municipality.