BTH top student recieves Global Swede diploma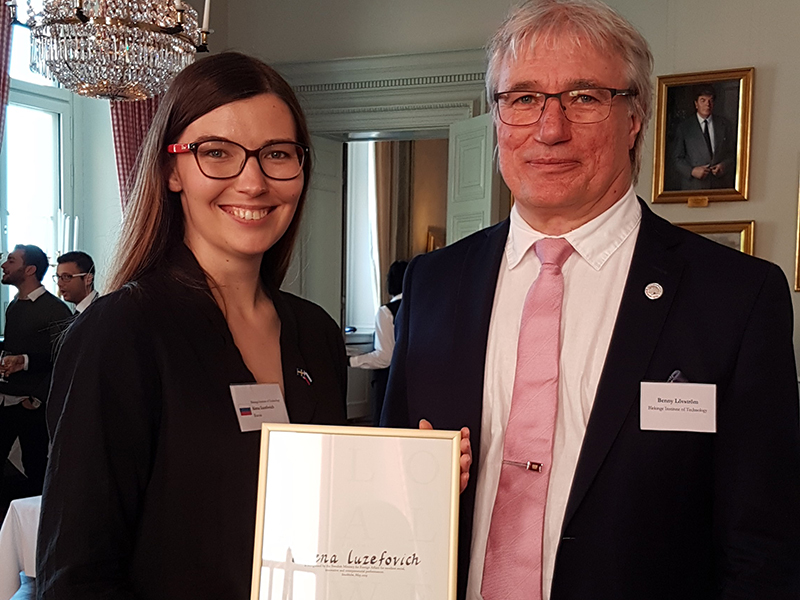 Today, the Global Swede diploma was awarded to some 20 international university students at a ceremony at the Ministry of Foreign Affairs. The students have distinguished themselves in areas related to innovation and entrepreneurship and have proven to be good representatives for both Sweden and their own country. One of them is BTH student Alena Iuzefovich.
Global Sweden is part of the Government and the Swedish Institute's work on building long-term relationships with international students in Sweden. The purpose is to create bridges of cross-border and multicultural networks that will contribute to Swedish trade and promote the work of reaching future solutions.
– Global Sweden is a way of saying thank you to some of our most innovative international moments. Students from other countries play an important role in our international relations and I hope that the award can encourage continued exchange and relations with Sweden, says Ann Linde,  Minister for Foreign Trade, with responsibility for Nordic affairs.
Prior to joining Sweden, Alena Iuzefovich was active in social entrepreneurship and programme manager within the framework of the global goals for sustainable development in Russia. She has actively worked to further develop her skills and knowledge with the aim of becoming a driving force for global change. While supplying her family, she has excellent academic results and is an active participant in the master's program in strategic leadership for sustainability. Her ambition is to integrate sustainability by designing systems and policies that make it easy to do the right thing.
It is for the ninth consecutive year that the diploma ceremony for Global Sweden is organized by the Ministry of Foreign Affairs and the Swedish Institute.