New arrivals with engineering skills are matched to the IT industry's needs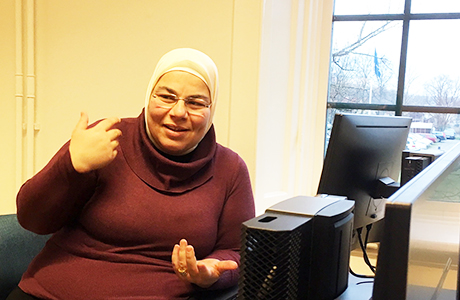 The IT industry has a great need for workforce, while many recently arrived immigrants with engineering skills find it difficult to find work. Now they are matched via a new project at BTH called Match IT.
About 15 students were admitted to the project and they have been studying at BTH since September this year. In addition to programming education, the students are studying Swedish language and Swedish culture.
-The aim of the project is to use the competence of the recently arrived immigrants. We build on the skills the students already have – many of them have a solid experience from their home countries. We adapt the education to the needs in industry, says Kennet Henningsson, responsible for the project at BTH.
One of the students is Shaza from Syria. She has a computer engineering degree and she worked as an IT engineer at the Syrian railroad. She is very positive about the project:
-This project gives us a chance to complement our knowledge and, thanks to BTH's network of contacts, a chance to get work in the IT industry, she says.
The students have completed half of their education, which consists of 22 weeks of programming education at BTH, followed by a 10-week internship at a company in the IT industry.
-We are now looking for internships for these talented students. An internship is a chance for them to show their skills and get contacts, Kennet says.
Ann-Katrin Strand is responsible for the Swedish language and culture education in the project.
-In addition to building on their knowledge in Swedish, it is also important that they learn about Swedish workplace rules and how it works, says Ann-Katrin.
Tarek from Syria has experience from working in Sweden. He believes that the biggest difference between working in Sweden and Syria is that in Sweden you can have discussions with your manager.
– Here, I can have influence on my job, he says.
The three-year project Match IT is a collaboration project between Region Skåne, Blekinge Region, the Swedish Public Employment Service, Blekinge Institute of Technology, Lund University and Ideon Science Park. It is funded by the Swedish ESF Council. BTH and Lund University are education leaders.