Researchers and students honoured with Best Paper Award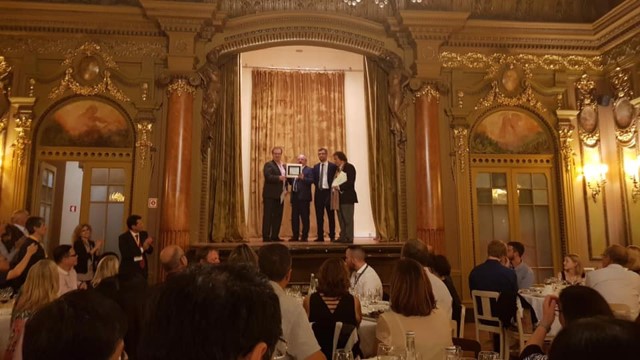 A panel of judges awarded the The Best Paper Award to Dr. Lawrence Henesey, Ms. Yulia Lezneva and Mrs. Mahwish Anwar, PhD student for their submission and presentation that was held in Lisbon, Portugal at the 21st International Conference on Harbour, Maritime & Multimodal Logistics Modelling and Simulation.
This annual scientific conference is known as HMS 2019. The HMS Conference concentrates on applications of simulation and computer technologies to logistics, supply chain management, multimodal transportation, maritime environment and industrial logistics. HMS Conference is a traditional event and it was held successfully worldwide, usually in the surroundings of major international ports.
The paper presented by the researchers from BTH is based partly on a research project financed by the EU called Connect2SmallPorts.
According to Dr. Henesey;
– The project aims at assisting South Baltic Small Ports, such as the Port of Karlskrona, which is a partner in the project, by improving technical, ICT – Information and communication technology.  By studying the viable use of the following research technologies in order to understand how they may be deployed, the research is scope is on Artificial Intelligence, BlockChain, Digitalisation technologies and Machine Learning.
The paper presented by the BTH researchers described studies and results based from the Connect2Small Ports project and via simulation that are using Multi Agents Systems (a form of distributed Artificial Intelligence) that is coupled with BlockChain technology for more efficient (and transparent due to the integrity of the ledgers) management of stacking containers. The work is partly financed and supported by Connect2SmallPorts project with further assistance on formulating the suggest solution provided by Swarm-Engineering Company. Further acknowledgment to Karlshamn Kommun, Netport and to BTH.