Specially designed app will help people with mild dementia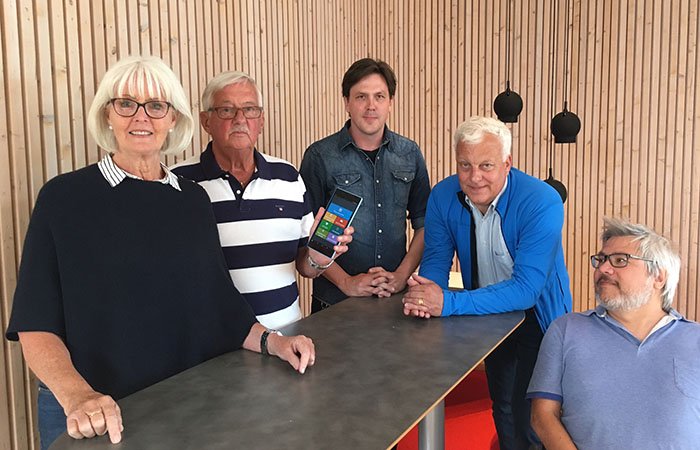 Blekinge Institute of Technology  is leading the EU project SMART4MD which focuses on creating an app designated for people with mild dementia. The app will help these people in daily life and give them a more independent living.
– The research project has two parts; Partly to develop the app's design to make it user-friendly, easy-to-use and customized, and to evaluate the effects of the app on quality of life on a large scale, says BTH professor Johan Sanmartin Berglund, head of the project Support Monitoring and Reminder Technology for Mild Dementia, SMART4MD.
The app should serve as a support for people with early memory problems and give them better control of their own daily lives. The 4-year project is developing a computer tablet-based platform especially for the needs of people with mild dementia, to help remind them to take prescribed medication, as well as allowing them to share health-related data with their caregivers and doctors. Now, the first tests of the model app are made in Sweden and Spain and later this autumn, 1,200 volunteers, with beginning memory problems, and their relatives will evaluate the effects on people's health, quality of life and wellbeing.
– The app is like a personal assistant in your own pocket, which will give people with memory problems an extra support, says Peter Anderberg, senior lecturer at Blekinge Institute of Technology.
The clinical project is led by a team at Blekinge Institute of Technology with Professor Johan Sanmartin Berglund as head. The 1,200 volunteers are recruited in four countries and the study is ongoing until the end of 2019.
– It is a huge challenge for society that more and more people live longer and with increasing age, we are getting more and more people who have dementia. This app can be one way for these people and their relatives to get support in their lives, says professor Johan Sanmartin Berglund.
The project co-financed by the European Union under an EU Framework Programme for Research and Innovation – Horizon 2020 and has ten partners in Europe.
– We wanted to take part in the project because we were curious about this new app. It seems very good and we will it when it's ready and we will also recommend others to use it, say Ingrid and Bengt Stoltz.
For more information, please contact Johan Sanmartin Berglund via email: johan.sanmartin.berglund@bth.se