Study paradise and secured job for Indian students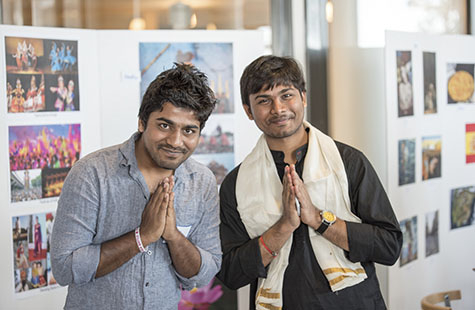 Engineering students from India are increasingly looking to Sweden and BTH as an option to further their studies. Sweden is considered a study paradise and the students can secure employment after graduation.
As the popularity to study in Sweden grows among the Indian student cohort, especially those pursuing a career in the Information and Communication Technology (ICT) field, more Indian universities are partnering up with their Swedish counterparts to facilitate student mobility.
Blekinge Institute of Technology, BTH, has had cooperation with Indian universities for a long time and has recently signed agreement with Sri Venkateswara University (SVU), Sri Padmavathi Mahila Viswa Vidyalayam (SPMVV)– an exclusive women's university  and JNTU Anantapur ( JNTUA) for cooperation in undergraduate education "Double Degree Bachelor's Programme".
Gurudutt Velpula, Director of India Initiatives at BTH, explains why Sweden, and BTH, has become an attractive option to Indian students:
-Sweden is considered an immigrant's paradise, which ranks high on parameters like general tranquility, public security, environment conducive for higher study and safety of women at public places, he says.
The BTH-India collaboration means "an integrated double degree master´s programme" starting in India and finishing at BTH, Sweden. The double degree master´s programme offered at JNTU Hyderabad and JNTU Kakinada is not only giving an opportunity for students to explore foreign education in countries but also providing them with a chance to work in the established electronic industry.
In an interview to The Hindu, Gurudutt Velpula explains how the Indian student community can consider the greener pastures of Sweden and benefit from the shortage of qualified and trained manpower, especially in the ICT sector.
-The curriculum for the master´s programme at BTH is designed in such a way that the student will work in a 'simulated workplace,' with thrust on real-time employment conditions, team work, research, innovation and skill development. The students have also the possibility to undergo thesis work in the industries. Thesis works are normally seen as first step for employment. Most students secure jobs in the BTH region or in Europe, says Gurudutt Velpula.
References
Articles in The Hindu:
Sweden beckons Indian students
SI News:
Paradise Sweden continues to attract Indian students