Successful collaboration with Indian university gives highly sought-after engineers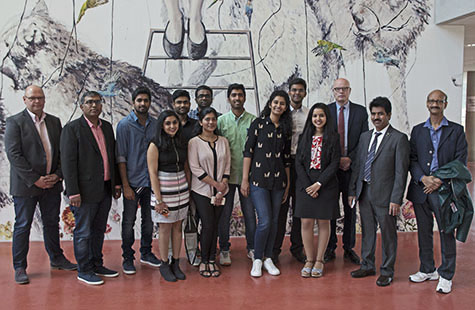 BTH's collaboration with the Indian university Jawaharlal Nehru Technological University (JNTU) in Hyderabad allows the Indian students to study in both India and Sweden. After graduating at BTH they are highly sought-after on the labour market and many students want to stay in Sweden to work.
There is a shortage of educated and qualified people in the IT and telecom sector. Since 2010, BTH has successfully been working with the Indian university JNTU Hyderabad, which allows the Indian students to start their studies in India. After 3,5 years they come to BTH to complete their studies with a Master's degree in computer science, software engineering or telecommunications. After graduation the students are highly sought-after on the Swedish or European labour market.
– We have integrated two education systems and that gives us talented students, says Gurudutt Velpula, responsible for BTH's partnership with India.
The first Indian students came to BTH in January 2014. Of the 50 students that came to BTH, 43 students completed their studies and 35 secured jobs. 10 students established themselves in Karlskrona and now work either at Ericsson, Qvantel, HiQ, Outpost24, Compuverde or at BTH in Karlskrona.
– BTH and JNTU collaboration is aimed to prepare students as a global players, says professor Yadaiah Narri, registrar at JNTU.
– Karlskrona is both beautiful and calm and it gives us energy to study hard. From day one here at BTH we have prepared for working life, says Chahna Polepalle, a newly graduated student who will start working at Ericsson in Karlskrona on July 1.
– The way to learn differs from India, here is more practical work. This means that we learn more and get better prepared for working life, says Vandana Narri, a newly graduated student who got a job at Scania in Stockholm.
BTH has also pursued a project, funded by the Swedish government agency Vinnova, with the aim of further increasing the employability of Indian students on the Swedish labour market. The students have been prepared in various ways for the Swedish labour market, among other things by learning Swedish.