Volvo CE prolongs BTH research collaboration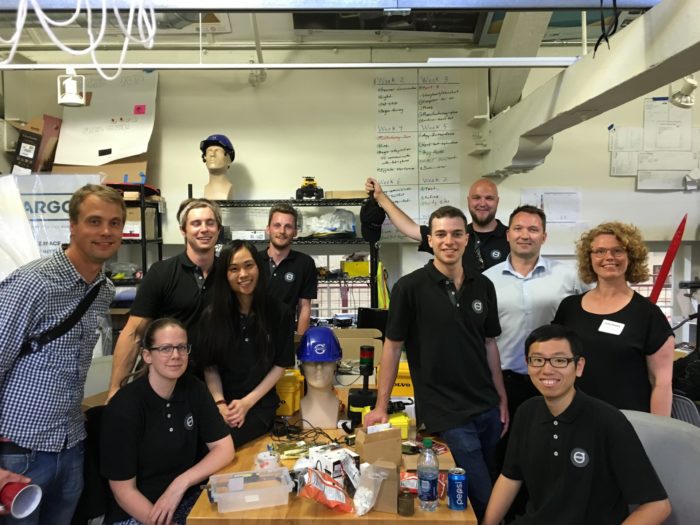 Jenny Elfsberg (right) and Tobias Larsson with Volvo CE / BTH /Stanford team at 2016 EXPE at Stanford.
Over the past three years Volvo CE and BTH within the Product Development Research Lab at the Department of Mechanical Engineering, have collaborated within the field of Innovative Product Development. This research collaboration will now be prolonged.
The collaboration between Volvo CE and BTH Both takes place via the participation in the ongoing KK Foundation profile "Model Driven Development and Decision Support" aiming at supporting the further digitalisation of the manufacturing and transportation industry through applying a model driven engineering approach, and also via the interaction with engineering education and student projects.
–We're happy to continue the work with Volvo CE as this allow us to have some continuity in the fields of innovation capability, decision support for engineering design and innovative product development. We like the strategic collaboration with Volvo CE and also that this collaboration include our engineering education via, for example, the Stanford ME310 collaboration, says Professor Tobias Larsson.
–In our strive to secure our innovative capabilities we collaborate with professor Larsson and his team. They have worked with this field for many years, both in research and with implementation at companies. Their expertise have been tremendously valuable for Volvo CE since innovation has become such a buzzword and many individuals and companies out there claim they have the best solution. It is also comforting to know that Tobias and his team focus on the creation, the development of innovative products and services and not yet another innovation management philosophy. I am happy that our partners at BTH have been so open and supportive – it is obvious that I and others involved in this collaboration have built a lot of knowledge in this domain." says Jenny Elfsberg, Director Emerging Technologies, Volvo CE.
The research contract has a value of 15 MSEK over three years 2016-2018.
For further information please contact Professor Tobias Larsson, tlr@bth.se, +46(0)455-38 55 25