BTH reached the final of the PEMA Student Challenge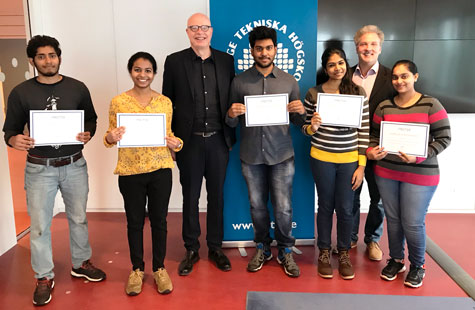 BTH was selected as one of the finalists for the fifth edition of the international student competition PEMA Student Challenge. The other two finalist teams were from the University of Hamburg and Hamburg University of Technology. The theme for this year's competition was "Digital Transformation for Ports and Terminals".
This year's final was held in Amsterdam. Each team had 25 minutes to present their answer to the Student Challenge question. The task was to "identify and define what are today's main areas for port digitalisation and which solutions and trends are now leading the market and why".
A panel of judges reviewed the presentations and chose the University of Hamburg as the winner of this year's competition.
The BTH team consisted of the students Kola Ramya Sree, Tikkireddy Lakshmi Venkata Sai Sri, Pulla Satya Vardhini, Nekkanti Gautham and Kareem Ahmed Sheik. The supervisor was Dr. Lawrence Hensey.