BTH students studied IT security in Ukraine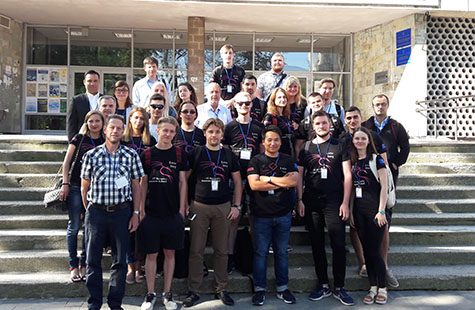 During two weeks, four BTH students studied IT security at Lviv Polytechnic National University in Ukraine. In total 35 students from Sweden, Poland, Ukraine, Russia and Lithuania participated in the annual summer school in IT security.
The project 'Educating the Next Generation Experts in Cyber Security' is funded by the European Union and gives students an opportunity to study malware analysis, wireless & mobile security, secure software development and web security. Anders Carlsson, BTH, is the project manager and teacher in various courses.
– The summer school in IT security implies two intense weeks where the students are offered a 'smorgasbord' of qualitative courses within the area of IT security, which will make them better at analyse the new threats on the internet, says Anders Carlsson.
The four engineering students from BTH, together with the other participants learnt, among other things, to analyse virus. For example, they studied the extensive cyber-attack that recently struck Ukraine and affected the trade of the country.
– After the summer school the students will come home to Sweden with newfound and important knowledge that is sought-after by employers here, Anders Carlsson concludes.