Exchange of accomplished progress and remaining challenges at STOSIP meeting at DTU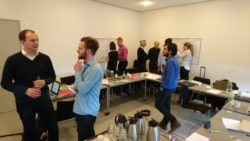 Researchers and industrial partners from DTU, BTH, GKN Aerospace and Volvo Construction Equipment met in Copenhagen to exchange experiences and knowledge on the theme "How can we measure sustainability?".
Besides general updates on recent progress and future plans for the STOSIP project, the two-day meeting included a workshop on how companies themselves can assess their current capabilities for sustainability integration and to use this knowledge to build a roadmap for improvement. Another interactive session focused on identifying the drivers for key functions in a company to better understand how sustainability can be made attractive to these roles. The second day consisted of several presentations both on the latest findings from the research team and on experiences and investigations from the companies.
A boat competition in the beautiful sunset over Copenhagen was another highlight – whether the goal was to be fastest or to have most fun is still debated. The common dinner that featured previously unknown and delicious tastes, also left our tongues with pleasant memories.
But besides all the scheduled presentations and activities, it was the lively and open discussions and the genuine commitment that really fueled the learning and progress that was accomplished during the two days.