New Insights and Ideas at the Volvo CE Innovation Conference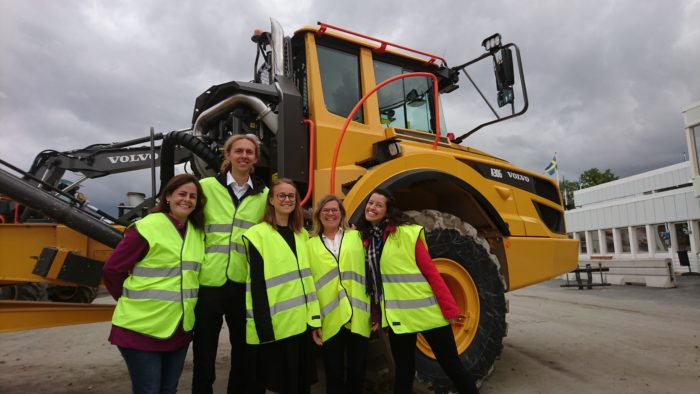 The BTH research team got a deep dive into Volvo CE's ambitions to fuel new thinking and ideas that will make the company build "the future we want to live in" at the VCE Innovation Conference in Eskilstuna, Sweden.
How do you preserve and build on a long heritage and tradition, while at the same time providing room for new ideas, bold innovation, and sparkling creativity? This question appears especially urgent as the industry is talking about a paradigm shift and the times they are a changin' faster than ever. Under the guidance of Tamara Carleton from Stanford University and BTH professor Tobias Larsson, the first conference day featured an intense design sprint. For more than 10 hours, groups of both researchers and VCE employees put their heads together to innovate for solving the most wicked problems that society and the construction industry are facing, such as natural disaster prevention and restoration, construction in super dense mega cities, and zero emission solutions. During the day, the groups made their way from establishing the context, mapping the user and customer journey, over looking for white-spots and blue oceans, where new innovations really could provide value and fill needs that no other product has done so far, to finally unleashing creativity to build several prototypes of some of tomorrow's VCE products.
What drives innovation – in general and for sustainability in specific? It is not money in the first place. Instead, it is the purpose of the company and the value that is stands for and lives. It is when values and beliefs form a culture of openness and trust that innovation can thrive – because people can thrive. The second day started with inspiring presentations around these topics, before the participants divided into three separate sessions. The researchers got a first-hand experience of what all that fuzz really is about in the end – yellow machines. So they got the chance to operate a couple of VCE excavators and to take a ride in a hauler. A little tired after the excitement and fun with the machines, the group could lay back a little and enjoy a tour through the Eskilstuna production facilities.
Back to heritage and tradition, participants were invited to a guided tour through the Munktell Museum to look at both radical innovation from steam engines the size of small houses to combustion engines, and also the incremental improvement of tractors, wheel loaders, haulers and the like. The evening got its perfect finish through a gala dinner with delicious food and memorable music entertainment.
Imagine a sustainable world, I think it can be done, man and nature making peace, thriving as one. You may say I'm a dreamer, but I'm not the only one. I hope someday you'll join us. And the world will be as one.
Many Thanks to Linn, Jenny, Tamara and the whole VCE organizing team for this experience and these days full of learning, sharing, and inspiring each other!