STOSIP Workshop at GKN Aerospace
Our 2-day STOSIP workshop gathered together participants from GKN Aerospace, VCE (Volvo Construction Equipment), BTH and DTU (Technical University of Denmark) at GKN's facilities, in Tröllhattan, from October 4th to 5th.
In a lively atmosphere, the workshop was fully dedicated to following up on the work that had been carried out by all project's stakeholders over the last 6 months as well as sharing insights, knowledge and key learnings from our academic and industrial engagements. The current needs of the project were particularly embedded into the topics covered by the workshop, in order to provide participants with a clear overview of STOSIP's main outcomes and next steps to be followed.
Hands-on activities – such as the exercise on GKN's and VCE's sustainability vision – were coupled with presentations showcasing cutting-edge research on considerations of social sustainability in product development and sustainability integration into risk management. Our dynamic agenda also had room for deeper and insightful reflection moments, with participants wrapping their thoughts around our current "ecological crisis" and the fundamental learnings towards building our next steps within STOSIP's scope.
Our social program was powered by two exciting study visits at Olidan Hydroelectric Power Station – Sweden's first hydropower plant, dating back to 1910 – and GKN's manufacturing facilities in Tröllhattan. The beautiful and scenic surroundings of Tröllhattan offered the right spots for spectactular sightseeing and sunset watching, which delivered an unique atmosphere to our gathering!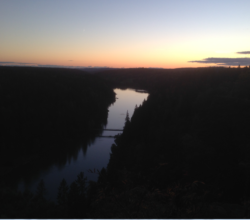 Tröllhattan and its amazing sunset