STOSIP Workshop at Volvo Construction Equipment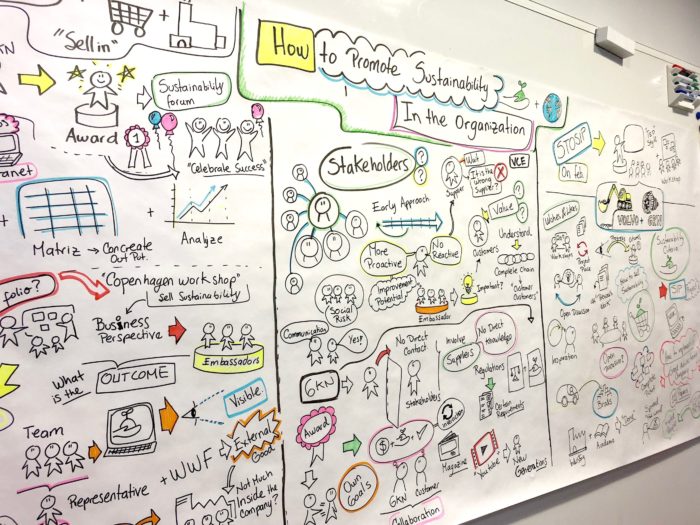 Illustration of the workshop results on how to promote sustainability in the organizations.
The STOSIP research team and industrial partners from GKN Aerospace and VCE (Volvo Construction Equipment) had gathered together at VCE's facilities in Braås for a follow-up meeting and a 2-day workshop, on 22 to 23rd November 2017.
The event kicked off with an introduction presentation by the research team leader, Sophie Hallstedt. She has summarised the STOSIP project outcomes in the last six months, before the industrial partners, GKN and Volvo CE, shared their inspiring experiences on Additive Manufacturing and Sustainability, and how they were taking sustainability to the next stage in the organisation. The BTH research team also presented some of the ongoing research works on product requirements, product portfolio and risk management in relation to sustainability.
Two dynamic workshops were conducted by Jesko Schulte and Sophie Hallstedt to understand connections in sustainable product development, and how to promote sustainability in the organisation. In an open and enthusiastic atmosphere, a lot of interesting ideas and feedback were harvested from the workshop activities, which provided a ground to continue further investigation on strategies, methods and tools to drive sustainable product development.
A guided tour through VCE's production facilities in Braås, the birthplace of the world's first articulated hauler, made a great addition to the trip.
Before the event ended, all the participants had reflected on their 'STOSIP experiences'. Many positive responses were received on the thought-provoking discussions and the open and stimulating environment created. It was encouraging to see how academic works connected to industry practice, and that more members (both academic and industrial) are joining the team!