Product development
Product development
The research in product development is based on the subject mechanical engineering and focuses on how a digital and model-driven work method in technical product development can lead to innovations that fit into a sustainable society.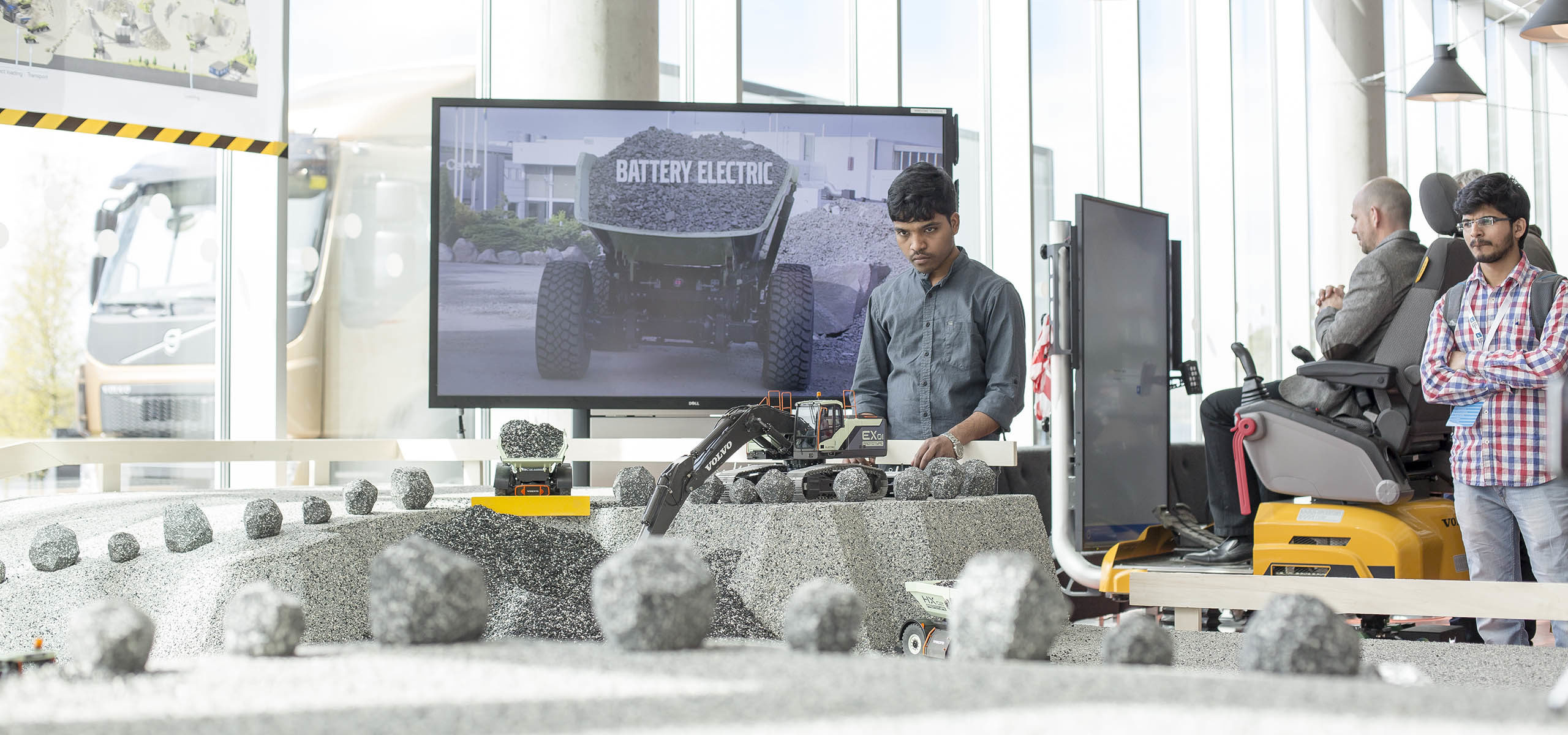 Perspective areas are engineering design methodology, simulation-driven design, and model-based development, which requires methods and tools that enable product developers to efficiently, and in as early stage as possible, be able to predict, describe, assess, and improve product characteristics. Design, development, analysis and simulation methods are needed for the prediction of technical product properties as a function of different combinations of design variables of the product life cycle. Broad or specialized engineering skills in a number of disciplines, and simulation is needed for the prediction of technical product properties as a function of different combinations of design variables as well as for the prediction of economic and socio-ecological impact of product life cycle.
An overarching objective is that when needed, be able to integrate all the relevant methods and tools for product development capability in business leaders and product developers ordinary working environment. Advanced IT tools, for example, analysis, modeling, simulation, visualization, optimization, product data management, and distributed engineering related to experimental methods are characteristic of the research.
Examples of special areas currently being studied and used for product improvements are value-driven development models, knowledge engineering methods, mechanical and mechatronic systems; structural dynamics; and fracture mechanics.
Research in product development is mainly conducted at the Department of Mechanical Engineering.
Specialisation
Research Specialisation
Within the technological research field mechanical engineering you find the following research aspects:
Innovation engineering
Design automation
Creative concept generation
Lean product development
Product-Service systems and innovation
Product development methods and tools
Simulation driven product development
Structural analysis
Value driven development
The research group PDRL – Product Development Research Lab, led by Professor Tobias Larsson, is using a strategy of creative problem solving at an early stage and digital computer simulations to generate ideas, create, appreciate, model and drive the development of product-service innovations in an industrial context, hence we call this simulation-driven design (SDD) Product Innovation (PI ) with a focus on product-service systems (PSS). The research helps companies meet the complex challenges when moving towards a situation where they need to develop greener products and services to be sustainable. This places new demands on the engineers involved in product development. They get more and more aspects and options to consider all the time, sustainability is one of the factors.
The research group Structural Mechanics Research Lab is led by Professor Sharon Kao Walter and focus structural mechanics of material and designs.
Our study programmes are given in close collaboration with our research and our collaboration companies to ensure that "the engineer's desktop" is up-to-date and updated with tools and methods.
The goal is to conduct research on, develop and implement this updated "Engineering Toolbox 2.0" for the future of engineer, and to support collaborative companies to take advantage of, and implement the results.
Examples of public funding:
KKS, VINNOVA, the EU, Swedish Agency for Economic and Regional Growth – (Tillväxtverket) and Blekinge Centre of Competence.
Examples of partners:
GKN Aerospace Engine Systems, Volvo Construction Equipment, Kockums, DIAB, TetraPak och Dynapac.
Read more about our research/education/collaboration efforts within the scope of Mechanical Engineering:
Structural Mechanics Research Lab
Quote from a partner
Our collaboration with BTH is a real win/win partnership. –Our company is in a very exciting transformational phase which gives BTH good examples for their research. Since BTH collaborates with other industries that have already done their shifts from products to services, for example, we can gain knowledge about proven methods instead of inventing everything ourselves."

Jenny Elfsberg, Director of Emerging Technologies at Volvo Construction Equipment.
Applied fracture mechanics in package openings
One goal of the project is to create a better understanding of the characterisation of the functional behaviour of packaging and materials – e.g. technical parameters and continuum mechanics of material properties – through experimentation and simulation. With a better understanding of the fracture mechanics of packaging, new and better packaging can be developed.
Partner/funder: Tetra Pak Packaging Solutions AB
Contact person: Sharon Kao Walter

MD3S – Model-driven development and decision support
The project aims to support the development of an internationally competitive research environment focusing on improving the competitiveness of the industry through model-driven development of products and services that promote a sustainable development of society. The project combines the areas of strategic sustainable development, mechanical engineering, management, innovation, decision support systems and visualisation.
The project is one of the key projects of the Swedish Knowledge Foundation (KKS).
Partners/funders: KKS, BTH, and the companies Aura Light International, Avalon Innovation, Dynapac Compaction Equipment, Holje International Group, Industrigruppen Karlskrona, Tech Network, Tetra Pak Packaging Solutions AB, GKN Aerospace Engine Systems, and Volvo Construction Equipment.
Budget: SEK 110 million (SEK 36 million from the Knowledge Foundation; the rest from companies and BTH) for the period 2013–2018.
Contact person: Tobias Larsson
More information