SULF vid BTH
Information från SULF
Universitetsläraren is launching a newsletter in English
Universitetsläraren is the members' magazine of SULF, The Swedish Association of University Teachers and Researchers. The magazine is editorially independent from the labour union, and covers all types of issues relevant to Swedish academia: higher education and research policy, working conditions, career paths, pedagogy, academic freedom etc.
If this interests you, please sign up here for Universitetsläraren's monthly newsletter in English starting February 11th.
If the link doesn't work, please copy this address into your browser:
https://forms.apsisforms.com/af3de23c3548eaaf65ba6278bacbf607
We welcome any suggestions regarding what we should write about, so please also feel free to contact us.
Inför Årsmötet 2021-02-18
Dagordning och verksamhetsberättelse för 2020
Inför Årsmötet 2020-02-27
Dagordning och verksamhetsberättelse för 2019
Välkomna till SULF-dagen, 2019-10-03.
På BTH kommer vi i BTHs SULF-förening som vanligt att finnas på "hyllan" vid Vargstyrningen på plan 3 i hus J från kl 13.
Vår kontaktombudsman Michael Svedemar kommer till oss för att hålla ett seminarium – Kunskapens Krona, om lön, löneprocesser och lönepolitik.
Har du frågor du vill ställa till vår kontaktombudsman Michael Svedemar går det bra att göra det efter seminariet eller att mejla dem i förväg till  saco@bth.se alternativt till eva-lotta.runesson@bth.se (2019-09-05)
SULF-föreningen vid BTH
OBS! För att säkerställa en plats och en lättlunch måste ni anmäla ert deltagande till saco@bth.se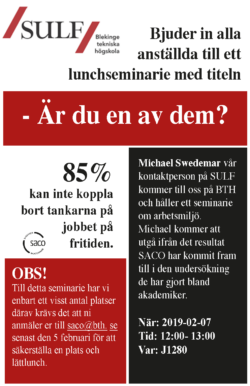 senast den 5 februari.
Till detta seminarie får ni gärna skicka in tankar och ideer, ni tycker är aktuella inom området arbetsmiljö.
Det kan vara frågor ni tycker är viktiga som tex:
Hur tillgängliga måste vi vara?
Vilken hjälp kan facket bistå med i arbetsmiljöfrågor?
Vad förväntas av mig som medarbetare när det gäller arbetsmiljön på min arbetsplats?
Hur kan jag som individ påverka arbetsmiljön?
Vad gör facket respektive arbetsmiljöombuden i de här frågorna?
BTH väl representerat på riksnivå inom SULF
Bengt Aspvall har under de tre senaste åren varit ledamot i Sveriges universitetslärare och forskare, SULF:s, förbundsstyrelse. Nu tas stafettpinnen över av Eva-Lotta Runesson som på förra veckans kongress valdes som suppleant i förbundsstyrelse för de kommande tre åren. Förbundsstyrelsen är en central styrelse för SULF Sverige och sätter riktlinjer för arbetet för SULF:s 21 000 medlemmar runt om på vår olika lärosäten. Mikael Åsman har fått förnyat förtroende att vara med i SULF:s valberedning.
Vidare har Erik Bergenholtz på  SULF:s doktorandförenings årsmöte blivit invald i styrelsen för SDF. BTH är med och gör sig hörda i olika centrala organ.
---
SULF dagen  oktober 2018
SULF-dagen med bland annat seminarium "Stress, IT och tillgänglighet"
11:00-14:00 Träffa och prata med lokala SULF-föreningen och ombudsman Angelin Olsson De Groat (J-huset vid vargmålningen).
15:00-16:00 Seminarium Stress, IT och tillgänglighet  med ombudsman Angelin Olsson De Groat från SULF (rum G340).
Comming soon
SULF's Working in Sweden – what everyone should know is comming back to BTH.
Are you working at  Blekinge Institute of Technology and want to know more about the union, the unemployment fund and the social security system in Sweden? Then this seminar is something for you.
Do you know what income you will have if you fall ill or if you go on parental leave?
What happens if you become unemployed, with or without a valid residence permit?
Will you get Swedish pension?
What can the union do for you if you are a member?
What help and benefits can you get?
When: Soon
Where: TBA
Registration: (will be required)
If you are interested in more information contact Bengt.Aspvall@bth.se.
---
Lokalföreningens styrelse vald på årsmötet 2020
---
Nationellt
---
Några dokument
ÅRSMÖTESPROTOKOLL - SULF
Årsmötesprotokoll 2010
(protokoll saknas som pdf)
SACO:s medlemsförbund