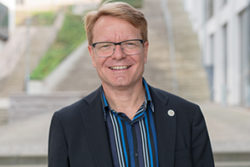 So, my first week at BTH is over. It has been characterized by many new meetings and impressions, and quite a few interviews and photo sessions. It has been a lot of fun to meet all new students and my new coworkers.
I am thankful to all I have met so far for the positive response, I feel very welcome. I feel that BTH is a friendly place to work, something I will obviously want to preserve and develop.
Unfortunately, there was also a tragic event; that a student has deceased. It reminded me of the seriousness and responsibility in my role. I also think how important it is that we take care of each other and that we value the time we have and try to live more in the presence.
During most of the interviews I have been asked about my vision for BTH and what I want to achieve? This is not so easy to say, being new both in the role and at the university. I have met many wise persons that I want to listen more to, and eventually build up my view of what we want to become. There is also a relatively new strategic plan that I like very much. That said – there are obviously issues that I care for a bit more and that I think will continue to be of importance for BTH. We are highly dependent on the people we recruit; students and employees. It is a challenge for a small university to be visible in an increasing competition. It is important to continue to offer high quality in education and research, and not the least to tell what we do and that we do it well. BTH has since long had a successful international strategy that is characterized by focused efforts, and in that way we have recruited bright and ambitious students.
A related challenge is gender equality. Most technical schools struggle with an uneven gender balance in their educations and personnel categories. Further, the share of men tends to increase the higher you get in the hierarchy. BTH is no exception. We must continue to learn to understand what systematic errors there might be and how we can make sure that power and resources are distributed in a fair way. It is particularly important that gender equality has a high priority when recruiting new personnel – all categories.
Since the start, BTH has been strong in collaboration. Almost all our research is performed in collaboration with industry and/or society. Collaboration is also important in education, for example through guest lectures, thesis and other projects, as well as education in practice, outside the university. Collaboration has been facilitated through long-term strategic relationships with a few partners. I think this is an excellent model that can be further developed. There is a potential to strengthen the collaboration with the nearby society. I also think we can become better to understand and tell how we contribute to a sustainable society, locally, regionally and globally. To measure traditional research quality can be hard enough, but to quantify the broader impact of research and collaboration is considerably less explored. There is room for creativity and experiments.
An important reason for me to come to BTH is that it is a relatively small and focused university, with directions that I think are very timely. However, the fact that we are spoiled with an amazing location cannot be neglected. The only campus I know that might be even more beautifully located than Gräsvik is the one in Karlshamn. I moved to Karlskrona with my wife Ann-Sofie on September 1, the day after my farewell ceremony at Chalmers. The beautiful weather allowed me to go swimming in "studentviken" twice, literally just outside of where I work. Last Saturday we tried something quite unexpected in Sweden. We joined as volunteer grape harvesters at the Vineyard Stora Boråkra, which turned out to be on bicycle distance from where we live. It was a fantastic experience that strengthened my feeling that Blekinge is really Sweden's garden. There was also enough time to visit Västra Marks IP and watch the local football club FK Karlskrona be beaten up badly by my home team as a boy; Åtvidabergs FF. One thing I bring home from the match was the behavior of the spectators. They cheered for their team even when they were down 0 – 4. That gave me something to think about, perhaps useful also in my office!?
I look forward to six inspiring, developing, and not the least fun years at BTH!
Mats Viberg