Researchers who see the ocean as a resource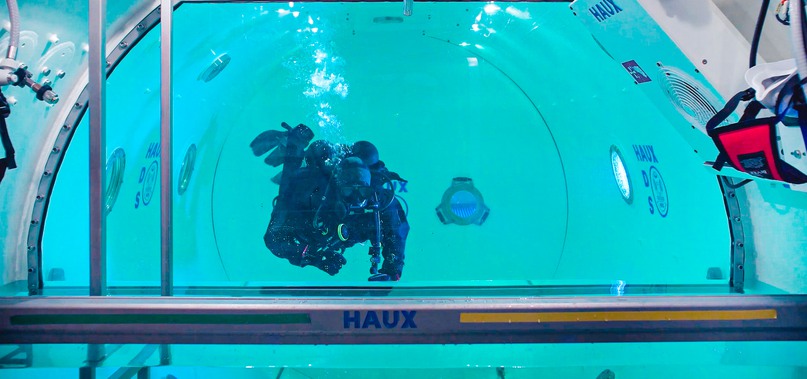 BTH has participated in producing Sweden's first national innovation agenda for underwater technology and the researchers see many areas of use – outside the marine industry too.
"Energy and security are two major societal challenges where we can play a part", says Oskar Frånberg, researcher and representative for the National Centre for Underwater Technology at BTH.
At BTH, technology and applications are developed for the demanding environment under the ocean surface. Oskar Frånberg says that BTH is an important part of the region's unique environment and offers expertise in underwater technology with comprehensive research activity and engineering programme in marine technology.
"BTH's strength is that everything is close by and we work in a region with a naval base, shipyards, naval academy, coast guard, industries like NKT, SAAB and Blue Science Park, which together provide a fantastic environment for experts in underwater technology." ¨
Potential in marine technology
Solutions from collaboration projects also lead to applications for entirely different environments such as, for example, water-filled mines, AI and data security, decontamination and customs. The brackish water of the Baltic Sea means that shipwrecked vessels are preserved for a long time and technology to find and explore old shipwrecks is another area in which BTH's Centre for Underwater Technology contributes expertise.
"The ocean is, largely, an unexploited resource and there is a lot to be developed. The activities at BTH have three main specialisations: security and armed forces, energy and marine construction. Marine technology is not a subject, it is an application. The three research areas are integrated, for example, digitised divers need expertise from all three", says Oskar Frånberg.
Safety for people on ships, in submarines and out diving are areas in which BTH is world leading.
"We build on the strengths we have. The combination of BTH's knowledge of the human/system relationship and our technical expertise is a strong contributing factor to the fact that we have come so far in marine safety", says Oskar Frånberg.
Ocean drones
The development in the energy area is often focused on systems engineering to develop underwater sensors and digitalisation under water, particularly for the extraction of wind and wave power, oil and gas. The ocean also plays an increasingly important role in connecting different forms of energy and energy networks with cables along the ocean floor.
"Minesweeping the ocean floor before the laying of cables is a challenge; there are plenty of sunken naval mines left from both world wars. Another is to detect the location and depth of cables prior to maintenance work", says Oskar Frånberg.
In marine construction, the research takes place together with large companies in the region, and here BTH builds on its expertise in product development. Sweden's production of submarines and submarine rescue systems is internationally prominent, and parts of the development take place in close collaboration with BTH.
Submarine force is more than sinking battleships
Ida Påhlman is the engineering systems manager for submarine rescue at the Swedish Armed Forces. She explains that the collaboration with BTH focuses on, for example, the formation of knowledge on underwater work environments or the air environment in a damaged submarine. It is a complicated environment under the surface of the ocean, a bit like space in some aspects. Those who have their workplace under water are cut off and left to their own resources.
"Increased knowledge of, for example, the air environment in shipwrecked submarines provides answers to how we can safeguard the crew until rescue and afterwards", says Ida Påhlman.