External engagement
External engagement
BTH has a distinctive focus and is firmly rooted in an innovative and expanding region. We represent quality and innovation, and are perceived as open, exciting and creative. Our activities attract students, businesses and organisa­tions, and contribute to new and local investments.
What distinguishes BTH is its close cooperation with industry and society which permeates both education and research at the regional, national and international levels.
BTH is characterised by cooperation and co-production with surrounding society. It is of great importance that research and education is conducted in cooperation with community stakeholders, which increases the students' connections to professional life during their studies and makes the students become more attractive on the labour market. When we cooperate with wider society, we can better contribute to solving the challenges facing society.
Innovation
Innovation activities at BTH are mainly conducted at each department, as it is the university's strategy to identify and further develop potential ideas as close to the needs and expertise as possible.
Through close collaboration with companies and organisations in both research and education, a continuous flow of ideas, concepts and prototypes for innovative products, services and processes is created. For this reason, BTH's innovation support focuses a lot on developing strategies, models and methods for innovation collaboration.
Contact us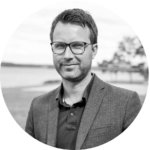 Andreas Larsson
E-mail: andreas.larsson@bth.se
Telephone: 0455-38 55 55
Lena Vogelius
E-mail: lena.vogelius@bth.se
Telephone: 0455-38 52 10