BTH top student Pacifique Uwajambo was awarded "Global Swede 2021″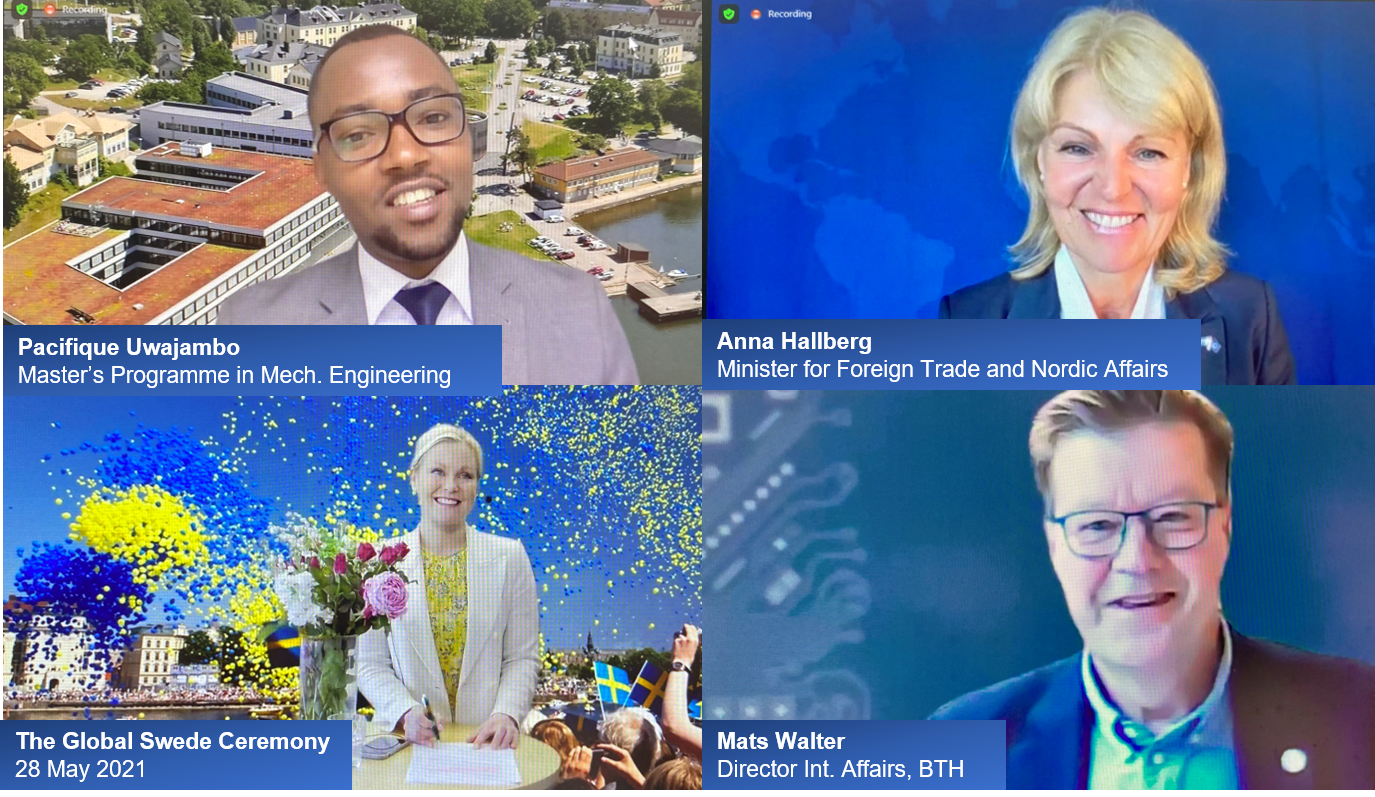 This year's Global Swede ceremony was digital, like last year, but no less festive!
On May 28, Swedish universities presented their nominations for students who have demonstrated outstanding performance in academics as well as great achievements in innovation, creativity and entrepreneurship. These nominated students are great representatives of their own country as well as future ambassadors for Sweden. 
Minister of Foreign Trade and Nordic Affairs, Anna Hallberg, addressed and welcomed the students with an inspiring speech:
"You are and will as alumni continue to be among our foremost friends and ambassadors. These are trying times with new challenges that require new solutions. We must ask ourselves not only how we can return to normal, but also what kind of normal we want to return to. As future innovators and leaders, you will have to answer these questions. Today's theme of cross-cultural bridges and international collaboration has never been more important, because it is only by working together that we can solve the global challenges."
BTH Master's student in Mechanical Engineering – Structural Mechanics, Pacifique Uwajambo, was awarded the Global Swede Award 2021.
We at BTH are very proud to be able to nominate such an excellent and dedicated student for the Global Swede Award 2021. Pacifique was thanking the committee and BTH with the words: "I am very thankful for this nomination, I am proud to wear the Swedish flag next to the one from my home country Rwanda".
Pacifique Uwajambo was born in Murangi Village, Kamembe City in Rwanda, in 1990. He received the B.Sc. degree in mechanical engineering from the University of Rwanda, Kigali, in 2014. Pacifique Uwajambo is a recipient of the Swedish Institute Scholarship for Global Professional Leaders from 2019 to 2021. As a skilled mechanical engineer, Pacifique is looking forward to contribute to the future sustainable product development through working in the industry or pursuing an academic research as a PhD student.
We got to know Pacifique not only as an excellent student, but also as a very happy and positive person with exceptional social skills. He has a great passion for helping others, and his work as BTH student ambassador is highly appreciated. We would also like to highlight his important contribution and dedication to several civil social  work projects such as "Act of Gratitude (AOG)" in his home country Rwanda.
Very well deserved Pacifique – Congratulations from us at BTH!
You can watch the recording of the Global Swede ceremony 2021 here (passcode XQKH#N7Z).