Meeting on BTH's new India cooperation vision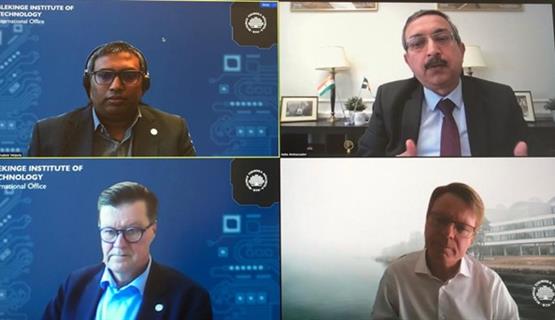 BTH recently had an introductory meeting with newly appointed ambassador of India to Sweden & Latvia, His Excellency Mr. Tanmaya Lal. At the meeting BTH presented its new vision of the Indian cooperation.
BTH ​​​​​Vice-Chancellor Mats Viberg presented the goals of internationalization and a new vision of the Indian cooperation.
– Our new strategy with India is to further deepen cooperation within all the three pillars i.e. education, research and innovation in the profile areas of BTH. We would involve all the stakeholders i.e. teachers, staff and students in the existing cooperation and develop new cooperation/partners  primarily focused on research, explains Gurudutt Velpula, Dy. International Director and Director for India cooperation
The Ambassador of India informed that positive and accelerated synergies are being developed with R&D and innovation between India and Sweden for a sustainable future for both nations. The Ambassador sees a good match between the identified focus areas by the two governments and the core profile of BTH i.e., digitalization, innovation and sustainability. The new vision is to focus on the cooperation with universities, research institutes and companies within the areas of research and innovation.
Both BTH and the ambassador of India are looking forward to a successful cooperation.​​