Students invented movable glove factory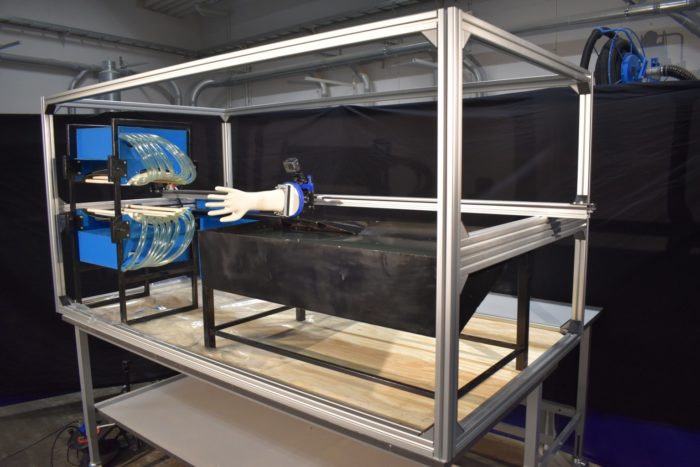 Being self-sufficient on healthcare items, such as disposable gloves, would facilitate healthcare. Now, BTH's students have developed a movable glove factory that can be moved between different places where gloves are needed.
During the corona pandemic, the lack of personal protective equipment e.g. protective gloves has been known. Although global production has increased by 40 per cent, they can be difficult to get hold of. These also create increasingly large waste streams that partly end up in the community or even in the seas.
The idea that BTH's students in the Bachelor of Science programme in mechanical engineering has developed is a solution for recycling and re-manufacturing personal protective equipment, in this case disposable gloves. The idea is called ReGlove and is a circular solution where the gloves are recycled and then manufactured again.
The disposable gloves, which are made of a special form of polyvinyl alcohol, are taken care of after use, cleaned and then melted down to liquid. Then they can be re-manufactured and become new gloves – which are then taken care of and re-manufactured and so on. The machines that do the whole process can be installed in a truck and moved, making this a rolling glove factory that can be placed where it is needed.
The idea was developed within the Global New Product Design Innovation course at BTH's Bachelor of Science programme in mechanical engineering, and the course is carried out together with students at Stanford University.
The idea of ​​students would not only make healthcare institutions more independent of external deliveries – it would also mean a benefit to the environment.