Telenor Sweden's CEO on visit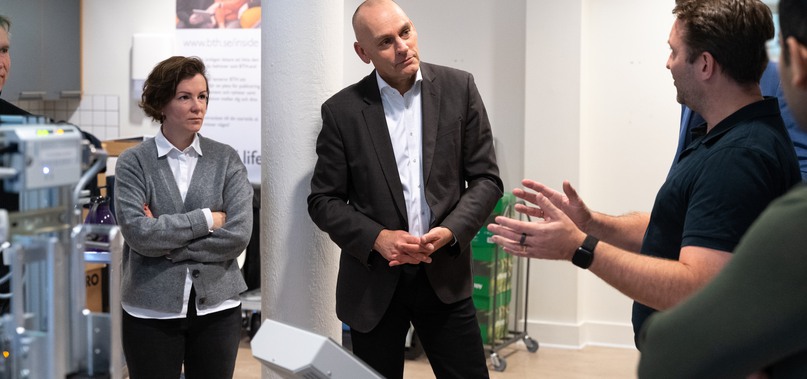 Telenor Sweden's CEO Bjørn Ivar Moen recently visited BTH together with Andreas Kristensson, Head of IoT & New Business. The visit focused on how BTH and Telenor can collaborate in the future within the framework of the industry's digital transformation – what we call smart industry or industry 4.0.
Deputy vice-chancellor Andreas Larsson began by presenting BTH's overall operations and the strategic partnership with Telenor, which has made a strong contribution to the development of a number of different research projects and study programmes.
Professor Lars Lundberg then gave some examples of research results linked to Telenor collaboration in big data, AI and machine learning. BTH and Telenor  have developed technology that has streamlined and improved Telenor's customer service.
Visits to several physical research labs
The Product Development Research Lab at the Department of Mechanical Engineering then presented two of its physical research labs. First we visited the Cyber ​​Physical Factory Lab where Professor Tobias Larsson and doctoral student Sravan Tatipala showed what the digital production system of the future might look like. Fast iteration between the production system and the digital twin of the system makes it possible to achieve a fast and adapted production where the change can be made immediately between what is produced instead of having a requirement for a certain production series volume.
At the same time, these connected systems become sensitive to cyber attacks and challenge existing collaboration models in the production system. The lab is the result of a collaborative project with Volvo Cars, Telenor Connexion, Blue Science Park and more and is today part of Testarena Blekinge. They also showed the Electric Site Scaled Demo, which is a demo facility together with Volvo CE for the fossil-free, autonomous and electrical construction machines of the future. Doctoral students Ryan Ruvald and Omsri Aeddula showed here how scaled-down machines work together in an open pit. This is part of the research carried out together with Volvo CE, which aims to implement the transformation from fossil to electric, while taking into account the environment and increased productivity. More information about Product Development Research Lab.
Telenor as strong partner to BTH
The group then visited the Software Engineering Research Lab, SERL, at the Department of Software Engineering and Ericsson Space – a meeting place for companies, students and researchers focusing on the development of software-intensive products and services. The focus was on ongoing in-company research in automation, human-in-the-loop, continuous product evolution, machine learning decision support, and challenges for the next 20 years.
With over 20 ongoing company collaborations, research and problem solving extends from the machine-like like AI, to the human in cognition, and how this is woven together in the next generation of product development. An important part of SERL is the focus on training, both for civil engineers and its industrial connection during the training, but also on new programs for professionals in software technology and security – supported by 30+ business partners. Telenor has historically been a strong partner to SERL, among other things through direct financing of projects within the framework of agile transformation and flexible working methods, as well as partial financing for innovation labs in software-intensive product and service development.
How can we attract more students to become engineers?
Finally, Telenor and BTH had a discussion what we can do to influence decision-makers to increase the number of engineering programmes to meet the industry's need for competence.