Master's Programme in Computer Science
120 HP
Period :

2021-August-30 until 2023-June-04

Location:

Karlskrona

Type of instruction:

On campus, day, full-time
Language of instruction:

The teaching language is English.

Programme syllabus:

Download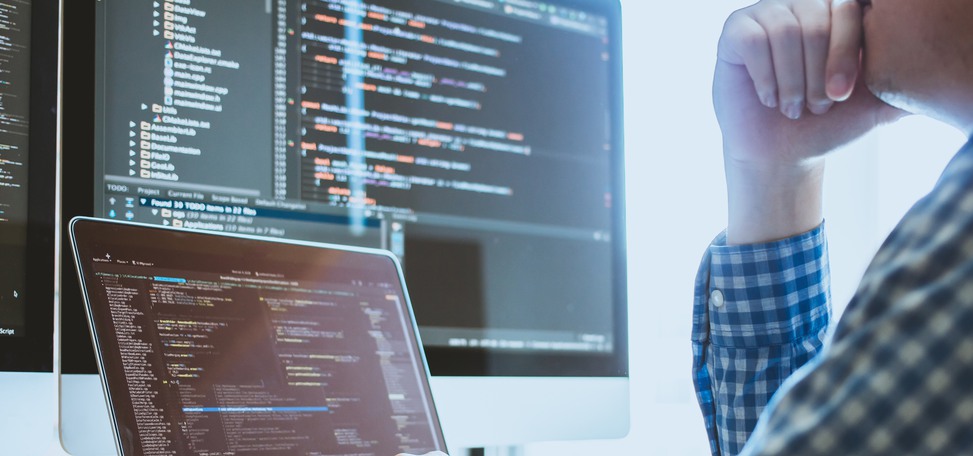 Master's Programme in Computer Science
A Master's degree covering a wide scope of fields in computer science – with a custom built front-edge competence of your own choice.
A degree with an advantage in research
As this is a programme with great focus on research methodology, it prepares you for a career in research-intensive industries, such as future research career in academia or business.
Courses autumn semester 2021
Courses spring semester 2022
Courses autumn semester 2022
Courses spring semester 2023
A broad field – where you chose your edge of competence
The programme gives you both width in the field of computer science as well as the opportunity to profile your knowledge through elective courses. The programme has three main directions – IT security, Intelligent Systems, and Distributed and Parallel Systems. Mandatory courses are artificial intelligence, Unix programming, cloud computing and network security.
Focus on research for understanding of future development
The programme focuses greatly on research preparation, and the courses look at aspects at the research front of computer science, applying these in different ways. The teaching consists of lectures, seminars, and laborations in group and single handedly.
About the programme
The Master's programme in Computer Science is a broad programme with the opportunity to study several courses in the computer science field. The programme requires significant knowledge in programming, If you are interested in a specific area, you have the opportunity to profile and deepen your knowledge in this field through elective courses.
The programme has three main directions: IT security, Intelligent Systems, and Distributed and Parallel Systems.
During the first semester, you will study courses that prepare you for future elective courses within the respective direction. Mandatory courses the first semester is artificial intelligence, Unix programming, cloud computing and network security. In these courses the practical assignments are based on programming, i.e. you will be required to program your own solutions.
The focus of the IT security area includes courses in safe software development, software security and analysis of malicious software. In the field of parallel and distributed systems, we work a lot with performance issues, parallel programming, virtualization and cloud-based systems. Within the field of intelligent systems, you will learn techniques for how to develop computer based functionals that are capable of complex processing and data analysis. This field includes courses in machine learning, simulation and decision support.
During the latter part of the programme you will be able to associate with different areas of application and current research projects. In some courses, you are encouraged to work with current challenges in areas such as pattern recognition, image processing, game development, different decision support systems for resource planning in the energy sector, healthcare and transport sectors.
The programme consists of 120 credits and leads to a two-year Master´s degree.
Admission


Admission Criteria


(This paragraph is a translation from Swedish of the approved method, "Antagningsordning" [Admission regulations], Dnr; BTH-1.2.1-0223-2017.)
In the case of more qualified applicants than available positions for the current programme start, a selection is made. This is done in the following way:

METOD 1 General method

GENERAL This method is simple and possesses a high degree of legitimacy and legal security. It works well when the applicants are expected to have similar educational backgrounds.

SELECTION CRITERIA Prior education.

SPECIFICATION OF SELECTION CRITERIA: Only the number of earned higher education credits documented by the applicant in conjunction with the application will be considered. Foreign credits will be transferred according to the guidelines established by the Swedish Council for Higher Education.

HIGHEST MERIT RATING The merit rating consists of the total number of earned higher education credits and is calculated in the interval 30 – 285 higher education credits

WORKING METHOD: The selection can, to a large degree, be carried out mechanically. If all applicants with the lowest equal merit rating cannot be offered a place, lots will be drawn.

Prior learning arrangements
No preparatory studies before the programme start is offered as the basic requirement is a bachelor degree.

Read more about admission here

Qualification Awarded

Degree of Master of Science (120 credits).
Main field of study: Computer science
Corresponding denomination in Swedish is
Teknologie masterexamen.
Huvudområde: Datavetenskap

Learning Outcome

The following goals will apply to the programme:

Knowledge and understanding

Upon completion of the programme, the student shall:

demonstrate broad knowledge of the main field of study of Computer Science regarding theories, methods, tools and languages applied in the field,
demonstrate significant in-depth knowledge of Information Security, Parallel Systems and Distributed Systems and Intelligent Systems,
demonstrate an in-depth insight into the current research- and development work in selected sub areas within the main field of study of Computer Science,
demonstrate in-depth methodology knowledge of selected sub areas within the main field of study of Computer Science.
Skills and Abilities
Upon completion of the programme, the student shall:
demonstrate skills in using advanced technologies in the field of Computer Science in an appropriate way,
demonstrate skills in selecting, adapting and critically assessing methods given a specific problem,
demonstrate skills in independently performing research in the field of Computer Science hence according to scientific principles,
demonstrate skills in identifying, formulating verbally and in writing, scientifically answering and critically reviewing problems in the field,
demonstrate skills in independently contributing to a research project.
Judgement and approach
Upon completion of the programme, the student shall:
handle problems using a scientific approach,
demonstrate skills in critically evaluating problems and suggested solutions in a Computer Science project,
reflect, assess, and describe ethical and societal aspects connected to the field,
identify his / her need for additional knowledge and take responsibility for his or her knowledge development.
You will study here
On BTH's main campus in Karlskrona, you will find our programmes and courses in engineering, IT, spatial planning, industrial economics and health sciences.
Campus Gräsvik in Karlskrona is located right next to the water, and there is even a swimming jetty 50 meters from the lecture halls. From the modern library's study areas, you have a nice view of the sea and outside there are exercise trails that take you through the woods and along the beach.